Jakarta, TOPNews Indonesia –
Pandemic Covid-19 forcing us to isolate ourselves, reducing our direct interactions to comply with distance restrictions.
For some people, it doesn't matter alone. However, for others this situation can be a formidable challenge.
Being alone is always associated with loneliness which creates fear. Why is that? Humans basically crave closeness but for a time like now, this is so difficult to realize.
"From prehistoric times, in the early days of society, loneliness was a biological driver to return to the group, where you will get protection," said Ben Pleat, founder of community platform Cobu. Glamor.
The lack of interaction can undeniably make people feel bored and fall into the trap of loneliness.
However, the deeper the loneliness will sink, this will only shackle the mind and prevent you from being yourself.
Clinical psychologist Rena Masri said that it is possible to make peace with loneliness as long as we are able to know ourselves.
Here are some ways to deal with loneliness, including starting from knowing yourself.
1. Quality time with yourself
Relationship and loneliness expert Kyla Sokoll-Ward says one way to spend quality time with yourself is to meditate.
You don't need to be grandiose to start meditating for half or an hour at a time. Practice meditation slowly, from a few minutes to a dozen minutes.
In addition, Rena added that individuals must know what makes them most relaxed and comfortable.
According to him, it is highly recommended to do new positive activities, foster enthusiasm so that they are motivated and not bored anymore.
Meditation illustration. (iStockphoto / PeopleImages)
Meanwhile, mindfullness practitioner Adjie Santosoputro said that building a connection with oneself can be started by taking a break, doing nothing.
"When we don't what are you doing, having a relationship by meeting ourselves, past memories will appear, we realize. The memories we have been trying to forget, including the imagination of a terrifying future, we will notice, "he said.
2. Find happiness
To overcome feelings of loneliness, occasionally forget about productivity and focus on what makes you happy, such as coloring or baking a cake.
The activities may be childish, but they can trigger a long-lost aspect of joy.
"(Find out) what makes us feel comfortable, relaxed, not because we continue to feel stressed out," said Rena.
He suggested that trying new things should not be forced. Forcing something later will create a feeling of stress that makes us unhappy.
3. Call a friend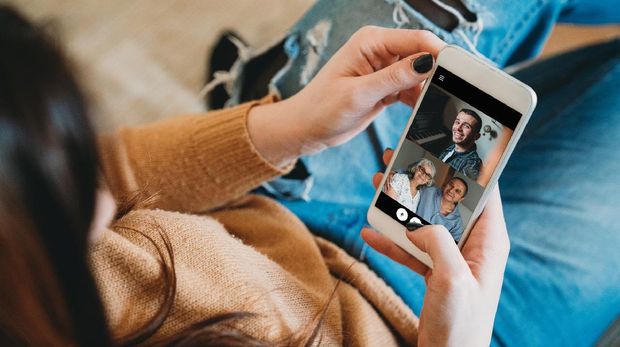 Illustration. Contacting close friends or relatives can be a way to deal with loneliness. (IStockphoto / FilippoBacci)
Calling friends can be one of the best ideas for dealing with loneliness. Pleat said the stigma of 'calling for a need' actually needs to be removed.
It is precisely those you call who will appreciate your initiative and derive dopamine from supporting you.
Meanwhile, Sokoll-Ward suggests avoiding the phrase 'How are you?' because the chat will feel bland.
"Try 'I'm having a tough day and want to chat for a bit. I know we all have things to do. If you have time, I'd really appreciate it.' That greeting will give your friend a lot to do," he said.
4. Avoid running to social media
When lonely, Rena advised not to 'run' to social media. For some people social media may be a means of interaction.
However, access to social media also triggers us to compare our condition with those who upload everything on the internet.
"If you are lonely, for example on Valentine, you don't have a boyfriend, so what is actually being avoided is using social media. Look at the cheerful uploads, the impression is. happy, but that can only add to the pressure, "he said.
5. Chat with professionals
In today's times, consultation is available on a variety of platforms including social media or healthcare apps. The prices also vary and can be adjusted according to the budget.
"Recognize and allocate time to learn about the therapist's choice so that this will be less stressful but rather the beginning of the process of accepting and overcoming your loneliness and fear," says Petersel.
(els / agn)


[Gambas:Video TOPNews]