TOPNews – For those of you who love minivelo bikes, you must check out this Polygon release. Bringing a fun riding experience, the latest Polygon Gili Velo bike prices range from IDR 14 million.
For some people, cycling is still an interesting activity to do. Besides being fun, riding can keep the body in shape, so that immunity also increases.
Some people do this fun activity at a certain time. For example, in the afternoon when you come home from work or on weekends on holidays.
For those of you who still like to ride, there is the latest news from Polygon. One of the popular bicycle brands in Indonesia has released its newest e-bike.
Namely, the Polygon GIli Velo bike. The Polygon Gili Velo bike is included in the urban category with a very young appearance.
How come? The Polygon Gili Velo bike offers a range of different colors colorful. You can ride by expressing style what you want but still looks cool over urban trails.
Also Read: Quite affordable, the price of Camp mountain bikes starts at IDR 5 million
Also Read: Specially designed for women, the Polygon Lovina bike costs only Rp. 2 million
Polygon GIli Velo bike specifications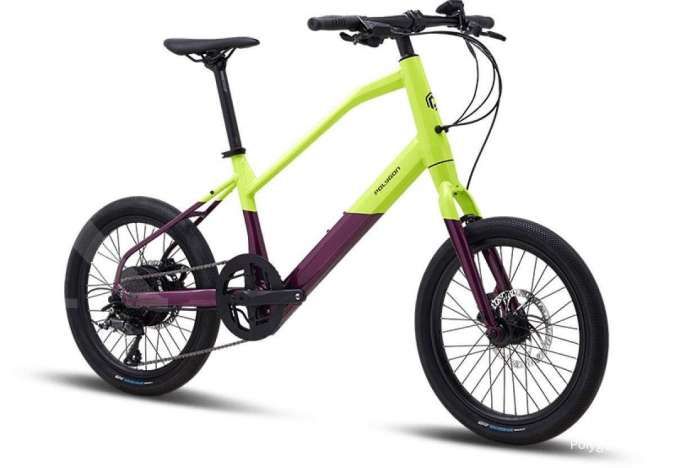 Besides color colorfulThe Polygon GIli Velo bike carries a futuristic appearance. Its unique design makes this Polygon Velo e-bike look different.
The Polygon Gili Velo e-bike has frame which is made of material alloy. So, the weight is so light when driving.
Being an e-bike, Polygon Gili Velo is equipped with a motorbike. Serves to help the rider pedal when riding with the pedal assistance system.
The battery is also supportive fast charging, so it doesn't take a long time to fully charge.
Shifter which is pinned on the Polgon Gili Velo e-bike using the Shimano Altus SL-M315 8-Speed. From the braking side, it has been carried hydraulic disc brake from the Tektro HD-M275.
Overall, the Polygon Gili Velo e-bike can meet the needs of those of you who like cycling in urban areas. Prioritizing comfort and pleasure when riding, the Gili Velo e-bike is also easy to ride.
Moreover, the pedal assistance system can help you when you don't want to ride but stay relaxed.
Also Read: Designed for young riders, the Polygon Maze 20 mountain bike costs only IDR 1 million
Interested? Following are the latest prices for the latest Polygon Gili Velo bikes:
Happy shopping!
Please note, bicycle stock and prices are subject to change at any time. The prices above follow the official Polygon Indonesia website.