TOPNews – Spotify will have a feature that will make it easier to play songs, just by using your voice. Simply by saying "Hey Spotify" followed by a song title or singer, you can play your favorite songs easily.
Nowadays, playing songs is getting easier using several platforms stream music available. Spotify is one of them. Through this application, you can find a collection of songs that are so diverse and of course free.
You can enjoy a variety of music genres via Spotify up to podcasts exclusive that is in it. To improve the Spotify user experience, reportedly the application will add an assistant like the Google Assistant.
Simply say "Hey Spotify", you can search and play your favorite song via Spotify. No more need to bother typing song titles or singers, just with your voice you can enjoy thousands of music collections on Spotify.
Launched GSMArena, smartphone The Samsung Galaxy S21 + gets a notification regarding the "Hey Spotify" feature. The notification states that users only need to say "Hey Spotify" followed by the song title or singer to search and play songs via voice.
Also Read: Hundreds of K-Pop songs suddenly disappeared, Spotity spoke up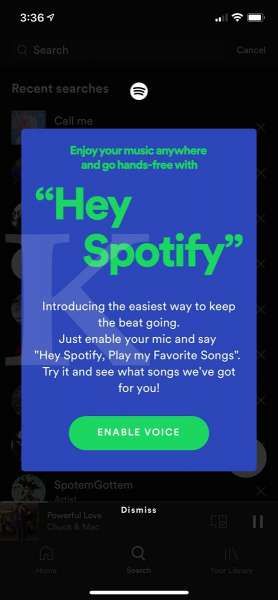 Despite making use of sound, microphone which exist in smartphone not forever live and record your conversations. The "Hey Spotify" function is only active when the Spotify application is still active on smartphone users.
Even so, to activate "Hey Spotify" can also be via the button or allow access microphone on smartphone users.
In fact, this is not the first time that the voice search feature has been implemented on Spotify. The song search feature via voice has been around since 2019 for Spotify Premium users.
Meanwhile, evidence of the "Hey Spotify" feature has reportedly been found since last March 2020.
With the addition of the "Hey Spotify" feature, Spotify users will be more active in using their voice to search for their favorite songs rather than typing. This feature is reportedly available to all Spotify users, both on Android and on iOS (iPhone & iPad).
Has Spotify on smartphone Did you get the "Hey Spotify" notification?