TOPNews – Netflix now has Vtuber as well as being brand ambassador. Introducing N-ko, the official Netflix Anime Vtuber who will discuss various anime and films that air on the platform stream.
Vtuber or virtual stands for YouTuber has recently been popping up. Indeed, Vtuber is content creater which uses two-dimensional or three-dimensional fictional characters.
Not wanting to miss the trend, Netflix also introduced their Vtuber, namely N-ko.
Through the official YouTube Netflix Anime account, a fairly recent video introduces a Vtuber named N-ko. N-ko is a three-dimensional fictional character who is a creature shaped and has the appearance of a human sheep.
N-ko has a pretty cute appearance. When speaking, N-ko is also very calm and looks very friendly with people.
Also Read: Broadcast shortly, the Yasuke anime on Netflix shows a new trailer
Get acquainted with N-ko, Vtuber and Netflix Anime Ambassador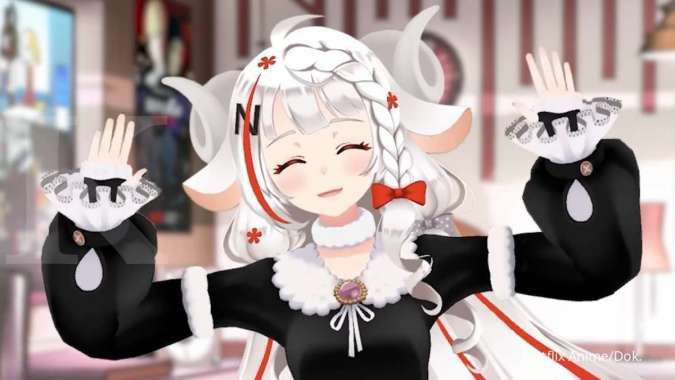 In this introductory video that lasts about three minutes, N-ko introduces what he is like. Like any general introduction, N-ko is a Netflix Anime Ambassador.
So don't be surprised, N-ko really likes anime, there is no need to doubt the knowledge of anime to movies. N-ko has the full name N-ko Mei Kurono.
He was born in California, however N-ko is bilingual, English and Japanese. According to the description listed, N-ko is now 24 years old.
As a Vtuber as well as a Netflix Anime Ambassador, N-ko is in charge of making more people know about interesting anime and films that air on Netflix.
Even though Vtuber, N-ko also has hobbies, you know. He likes singing, dancing, and massage. There are things that N-ko doesn't like, such as writing Kanji and things that smell like horror.
Do you want to get to know N-ko more closely? You can watch the video below.
According to Soranews24, In the future, N-ko will collaborate with other Vtubers to play games nor sing together. N-ko's special program titled The N-ko Show has also been prepared and will air every week starting April 30 at 10:00 (Japanese time).
Oh yes, N-ko's video on the official YouTube Netflix Anime channel is also equipped in several translations, namely English, Portuguese, Brazilian, German, French, Italian, Korean, Spanish, Thai, Vietnamese and Indonesian.