TOPNews – Each meeting will have goodbye. Likewise, PUBG Lite, which has accompanied its players for more than 2 years, has now officially parted ways by closing its services starting today, April 29, 2021.
Player Unknown's Battlegrounds (PUBG) is one of them games which was so popular in 2017. Game it was created by PUBG Corp. and presenting a unique experience, namely fighting in a folder to be the last to survive.
The presence of PUBG provides fresh air in the industry games at that time. Some games new doesn't even want to lose its momentum to release games similar to their respective tastes, call it Fortnite to Apex Legends.
Talking about PUBG, games This requires a fairly high laptop or PC specification so you can get the best experience when playing. For the sake of reaching out gamers more broadly, the development team finally tried to make PUBG lighter.
Also Read: Register for the latest Roblox promo code this week April 2021, there are new items for free!
January 2019 then became the moment for PUBG Lite to show off through the release of the Beta version in Thailand. Not only is it lighter than the original version of PUBG, PUBG Lite players can also play games is free without having to buy it.
Not surprisingly, PUBG Lite is starting to be watched by many players who want to experience what it's like to play PUBG on a laptop or PC with mediocre specifications. No need to pay extra, they can also play it 100% free.
The day that PUBG Lite players didn't want has finally arrived. Starting today, Thursday, April 29, 2021 will be the last day PUBG Lite operates to accompany you gamers.
The latest PUBG Lite post via its official Facebook account announces that the official PUBG Lite service will be closed starting today at 12:00 WIB.
Through a post on the official blog, PUBG Lite would like to thank you for all support player who are still loyal to play games the.
Also Read: This is the leak of the Mobile Legends hero who gets the Star Wars-themed skin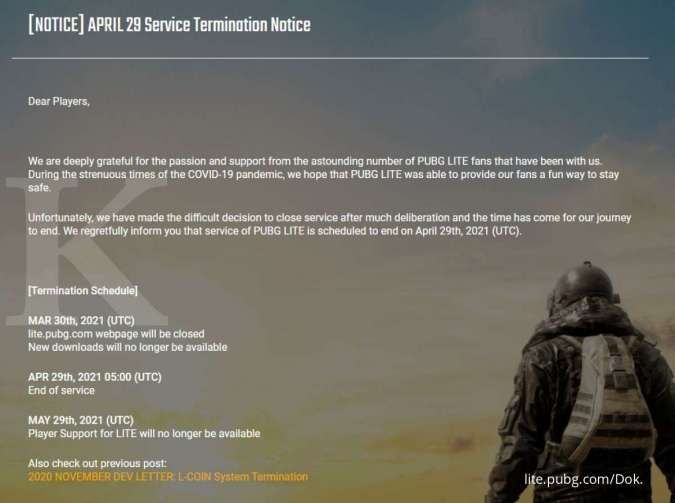 Schedule for closing the PUBG Lite PC service
29 May 2021

Player Support for PUBG Lite will no longer be available

March 30, 2021

The lite.pubg.com web page will be closed, the download will no longer be available.

29 April 2021 (05:00 UTC)
Even so, if you still save client PUBG Lite, games can still be played until the time of service termination.
While the PUBG Lite Facebook social media page will remain open until further notice.
According to PUBG Lite, this is a tough decision to close the service. After much consideration, they finally decided to end the PUBG Lite journey.
"Thank you for playing PUBG LITE", said the PUBG Lite team through their official blog.