TOPNews – JAKARTA. The price of used Toyota Fortuner cars is increasingly friendly. Data pricelist from the site Gridoto men, the lowest used Toyota Fortuner price from IDR 110 million as of May 2021.
This figure is down from September 2020, the price of a used Toyota Fortuner at that time was around Rp. 120 million.
The Toyota Fortuner is a quite phenomenal SUV series in Indonesia. The first generation of the Toyota Fortuner made it to the Indonesian market in 2005.
The Toyota Fortuner at that time had barely encountered significant car competition. Now, the Toyota Fortuner competes with the Mitsubishi Pajero Sport.
With the price of used Toyota Fortuner cars getting cheaper, are you curious about the specifications?
Also read: Starting from Rp. 60 million, the price of this generation's Toyota Vios used car
Check out the details of the features and prices of the first-generation Toyota Fortuner used cars in 2005.
1. The exterior side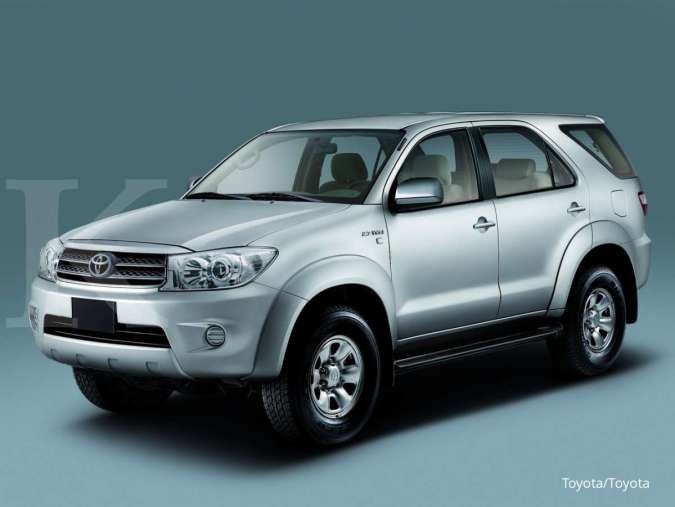 On the exterior, the Toyota Fortuner has a manly appearance sporty with a fairly large body in its class.
The front grille is embedded with the TRD Sportivo series and the New TRD Sportivo Front Underguard. The roof of the Toyota Fortuner was added Rear Roof Spoiler.
Part headlamp, Toyota Fortuner pinned the New LED series Daytime Running light (DRL) with a trapezoidal shape. Well equipped fog lamp as lighting during fog conditions.
Side glass parts are added roof rack for certain types that add more attractive appearance. The rear view mirror also features a turn signal.
On the back of the Toyota Fortuner, stop lamp Toyota Fortuner is coated with chrome color. The lower bumper is also pinned spoilers Red.
Also read: Details of the affordable Suzuki Ignis used car prices as of May 2021
2. Interior side
Moving to the interior, the Toyota Fortuner has a black alloy on the sides dashboard. Meanwhile, the cream colored seats add to the clean impression.
The size of the space in the Toyota Fortuner cabin has a spacious impression. The Toyota Fortuner can accommodate up to 8 passengers with 3 rows of seats.
On dashboard Toyota Fortuner was made to join head unit flanked by AC. Then, equipped with the instrument panel on head unit namely some of the entertainment features.
Entertainment features such as a 7-inch LCD, radio, CD or USB music player with MP3 and WMA formats. There is a steering wheel Multi-Instrument Display (MID) which displays information about the state of the car while driving.
Each door of the Toyota Fortuner is also pinned with 6 pieces speaker integrated with steering wheel. This feature helps drivers to stay focused on the road.
Also Read: Check the prices of used cars under Rp. 100 million, for SUV types as of May 2021