Jakarta, TOPNews Indonesia –
The echo of the takbir echoes indicating that the new moon has been seen. Procedures for prayer This Eid al-Fitr, which is carried out once a year, might be a little bit forgotten.
Eid prayers are included in worship sunah muakkad. That is, pray Eid Al-Fitr it is highly recommended to do it because the Prophet did it.
Basically, there is nothing different from the five regular prayers, including things that invalidate wudu.
However, before that, there are provisions that must be considered so that worship is valid and acceptable.
Eid Prayer Provisions
Photo: ANTARA PHOTO / Iggoy el Fitra
Illustration. One of the provisions of the Eid al-Fitr prayer is that it is carried out since the sun rises, before Duhur
Consists of 2 rak'ahs, with the number of takbeers for Eid al-Fitr prayers 7 times in the first and 5 in the second.
There is a sermon after performing the prayers
The time for Eid al-Fitr prayers is carried out since the sun rises, before Duhur time
Being passed slows down attendance, to give people the opportunity to pay zakat
Can be done munfarid or individually, if you cannot go to the location of the Eid prayer in congregation
Eid Al-Fitr Prayer Procedures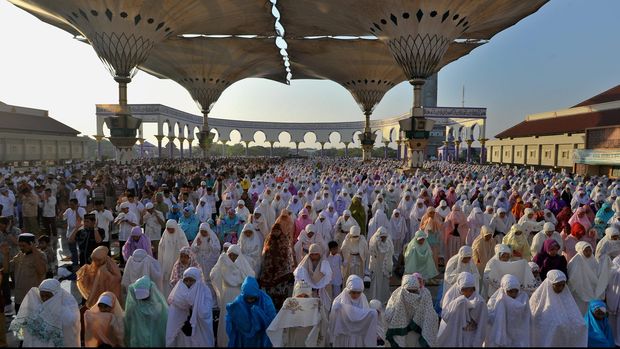 Photo: R Rekotomo
Illustration. Procedures for Eid prayers and their readings.
The following are the procedures for the complete Eid al-Fitr prayer from the reading of intentions and prayers that were spoken directly by the founder of Nahdlatul Ulama Syekh KHR Asnawi.
1. Intention to pray Eid
Begins with an intention that reads,
أُصَلِّي سُنَّةً لعِيْدِ اْلفِطْرِ رَكْعَتَيْنِ (مَأْمُوْمًاإِمَامًا) لِلهِ تَعَــــالَى
Usholli rak'ataini sunnatan ai'idil fitri (ma'mumam / imaman) lillahi ta'ala.
Meaning: I intend to pray the sunnah of Eid al-Fitr two rakats (to become a congregation / priest) for Allah Ta'ala.
2. Takbiratul ihram is continued by reading the Iftitah prayer
Takbir up to 7 times for the first cycles, between takbir it is recommended to read
اللهُ أَكْبَرُ كَبِيرًا ، وَالْحَمْدُ لِلهِ كَثِيرًا ، وَسُبْحَانَ اللهِ بُكْرَةً وَأَصِيلًا
Allahu akbar kabiiroo walhamdulillahi katsiroo, wa subhanallahi bukrata wiashiilaa.
Meaning: Allah is great with all greatness, praise be to Allah with much praise, Glory to Allah, both in the morning and evening.
Or you can also read:
سُبْحَانَ اللهِ وَالْحَمْدُ لِلهِ وَلاَ إِلَهَ إِلاَّ اللهُ وَاللهُ أَكْبَرُ
Subhanallah walhamdu lillah wa la ilaha illallah wallahu akbar.
Meaning: Glory to Allah, praise be to Allah, there is no god but Allah, Allah is great.
3. Read the letter al-Fatihah
After finishing reading al-Fatihah, it is recommended to read Surat al-A'la.
Then bow, prostrate, sit between two prostrations. Then stand perfectly to start the second cycles.
4. Second rak'ah
This position is almost the same as that of the first rak'ah. It is ordered to recite and raise the hand five times.
Just like before, between takbir recite the prayer that was stated earlier.
Then read surah al-Fatihah, then it is recommended to read surah al-Ghasyiyah. Continue bowing, prostrate, and end with greetings.
Takbir which is performed consecutively in each rak'ah is not obligatory. If the amount is not correct or is missed, do not abort the prayer id.
5. Sunnah after completing prayer
After the prayer ends with a greeting, the congregation is advised to listen to the Eid sermon until it is finished. Except for the congregation who fulfills the id at home.
The sermon consists of 2 parts. However, in other sources, the sermon is done only once, and does not start with takbir but by saying 'Alhamdulillah'.
That is the procedure for Eid al-Fitr prayer, hopefully it can be a perfect practice for the end of this year's Ramadan.
(cha / fef)


[Gambas:Video TOPNews]